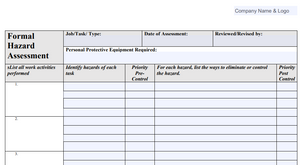 Hazard Assessment - Blank Template
This is a blank prompted template for you to fill out your own hazard assessment, it comes attached with a risk matrix so you can prioritize your own hazards as well. 
Under legislation, employee's have the right to know about the workplace hazards they are expected to encounter. All work site parties must have basic hazard information to ensure a healthy and safe workplace. Completing and reviewing hazard assessments on a regular basis is the best way to ensure compliance with this legislation.