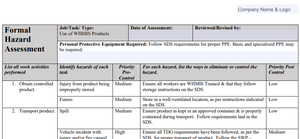 Hazard Assessment - Use of WHMIS Products
Accompany this hazard assessment with our WHMIS program and WHMIS daily toolbox talk to ensure compliance with the legislated requirements when dealing with any controlled hazardous chemical. A hazardous chemical can be as simple as a cleaning solution or even hair dye for example. 
Under legislation, employee's have the right to know about the workplace hazards they are expected to encounter. All work site parties must have basic hazard information to ensure a healthy and safe workplace. Completing and reviewing hazard assessments on a regular basis is the best way to ensure compliance with this legislation.