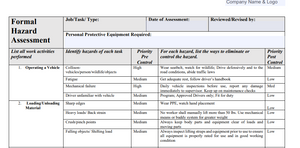 Hazard Assessment - Operating Crane
This hazard assessment identifies tasks, risks, hazards and associated controls with all tasks related to operation of a crane across multiple industries. 
Under legislation, employee's have the right to know about the workplace hazards they are expected to encounter. All work site parties must have basic hazard information to ensure a healthy and safe workplace. Completing and reviewing hazard assessments on a regular basis is the best way to ensure compliance with this legislation.